Immersive Technologies Lab
Close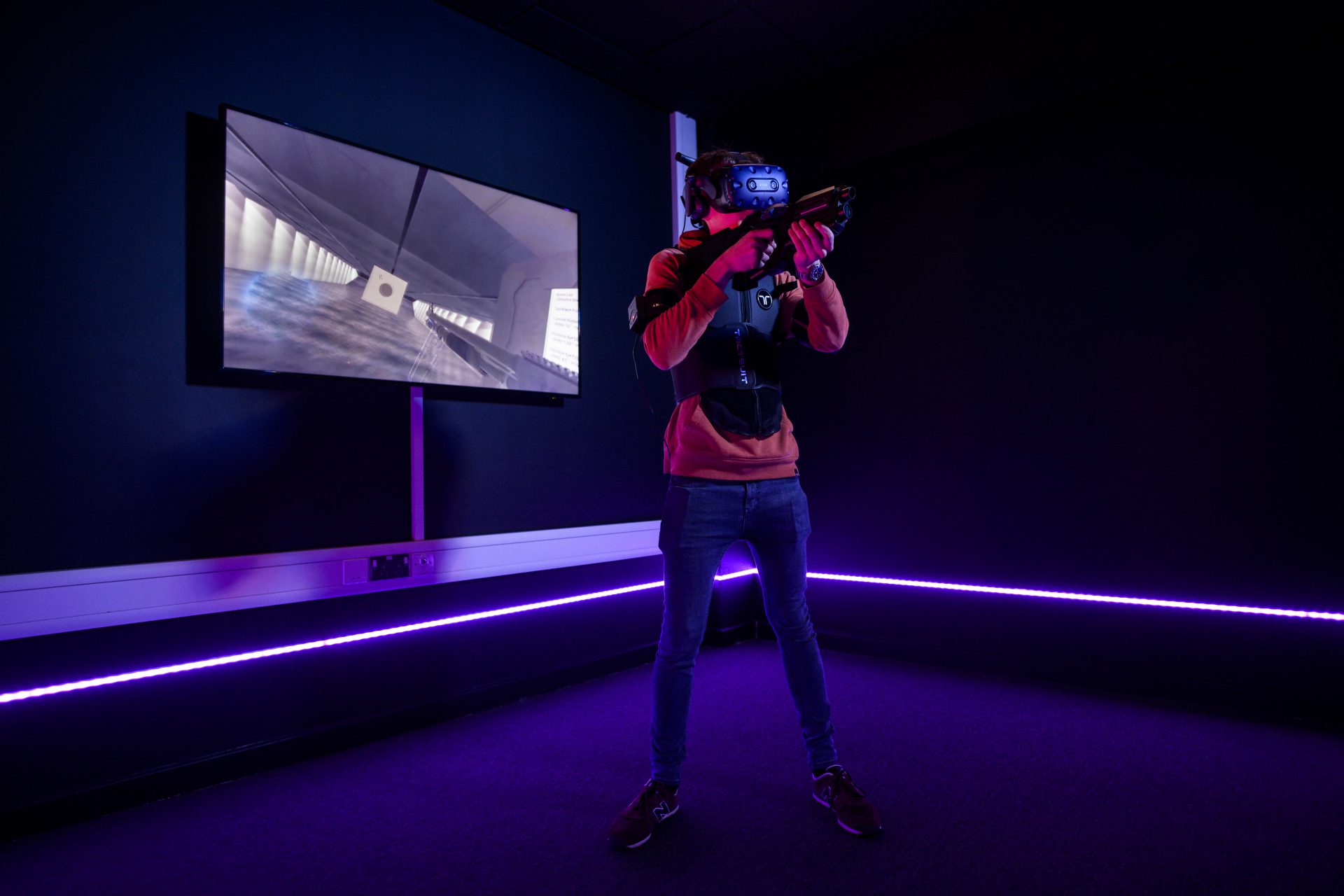 Close
Immersive Technologies Lab
The Immersive Technologies Lab is made up of a number of tech-packed rooms that bridge the gap between the real-world and virtual reality.
Our Duel VR creates a cinema like experience with two large interlinked screens and LED lighting, equipped with Wireless HTC Vive Pro systems for connected play and development. Next door is our Mixed Reality Lab, which combines the same HTC Vive Pro tech with tracking technology and green screen integration, putting you in the heart of the VR experience. We also have a fully equipped XR lab with 12 high powered computer stations, optical tracking walls, HTC Vive tech and the latest Unreal 4 and Unity software.
Close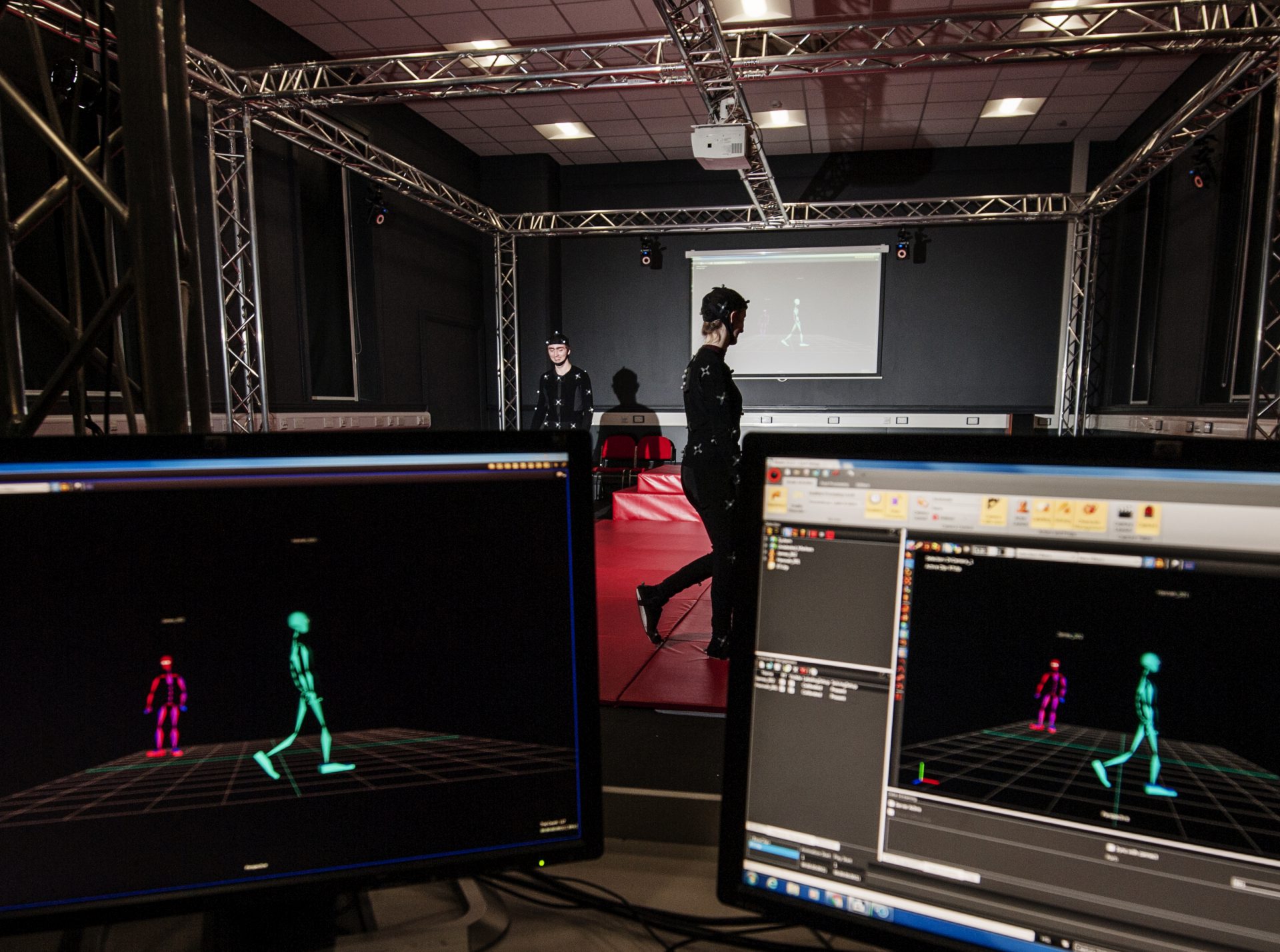 Close
Motion Capture Studio
Welcome to our Motion Capture Stage. In our recently upgraded Motion Capture Studio you get access to the software and hardware you'll find in real-world industry, so much so that industry often comes to us to take advantage of it.
In the studio we have 24 Vantage and Vero cameras that provide accurate data from our infra-red equipped suits and facial recognition hardware. We also use reference cameras from Blackmagic that provide HD footage, and mobile camera tech to film motion capture in real-time. The Studio is used by a variety of students from film, media, and arts, to games, VFX and Film, and is stacked with Vicon Shogun, Unreal Engine and Motion Builder software for various uses and outputs.
Close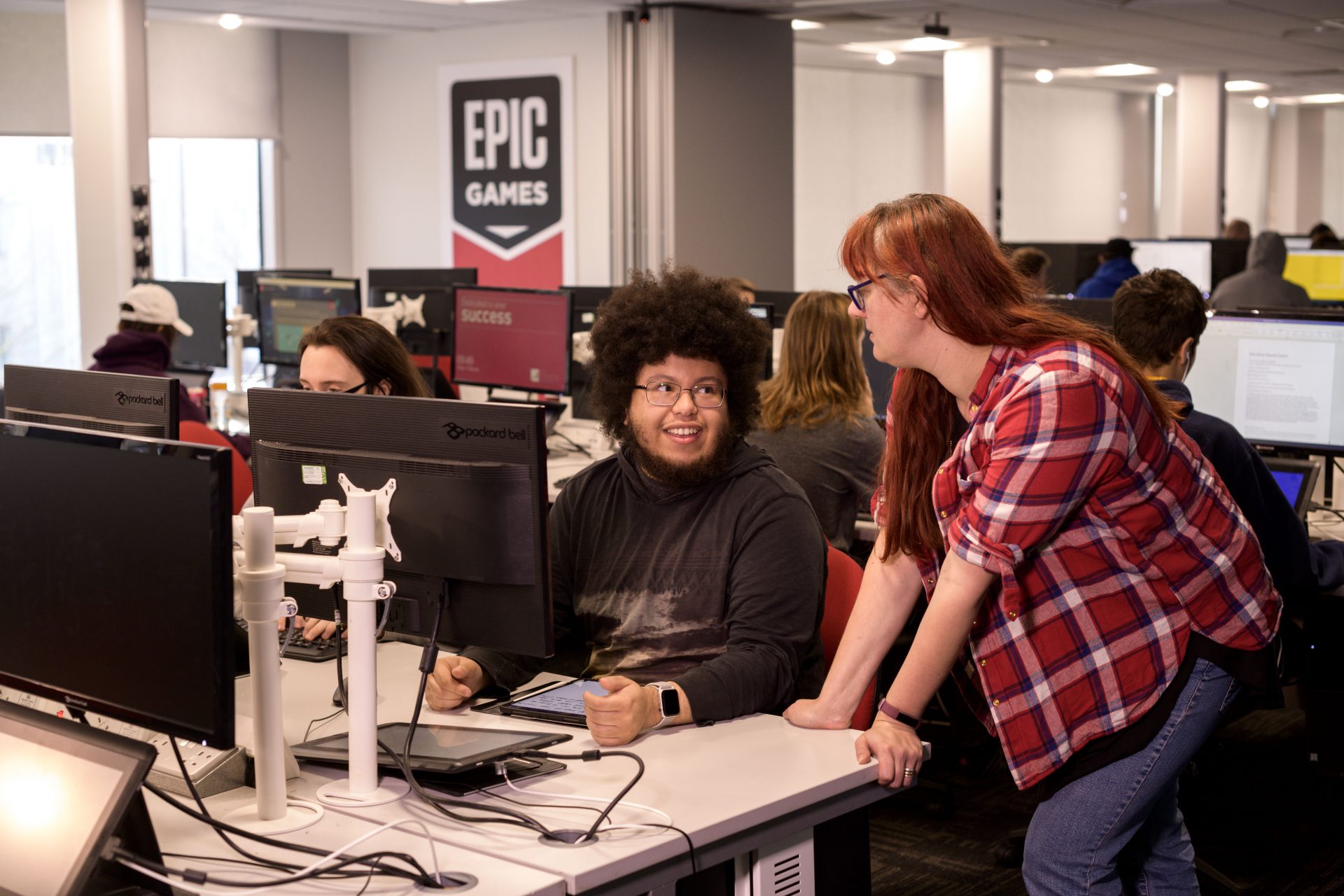 Close
Games Computing Lab
Our Computer Games Labs are a collection of rooms, labs that include our Ray Tracing Lab, Epic Games Centre and Computer Labs.
All our labs and facilities are packed with high-end dual screen computing equipment, set up for real-time gaming and loaded with Wacom Intuos graphics tablets and the latest software for games art, design and production including Adobe Suites, substance Painter, Unreal 4 Engine. Combined with our specialist Hive equipped VR, AR and Mixed Reality Labs, our facilities can run and develop the next generation of games with real-time ray tracing for cars, characters and environments.
Close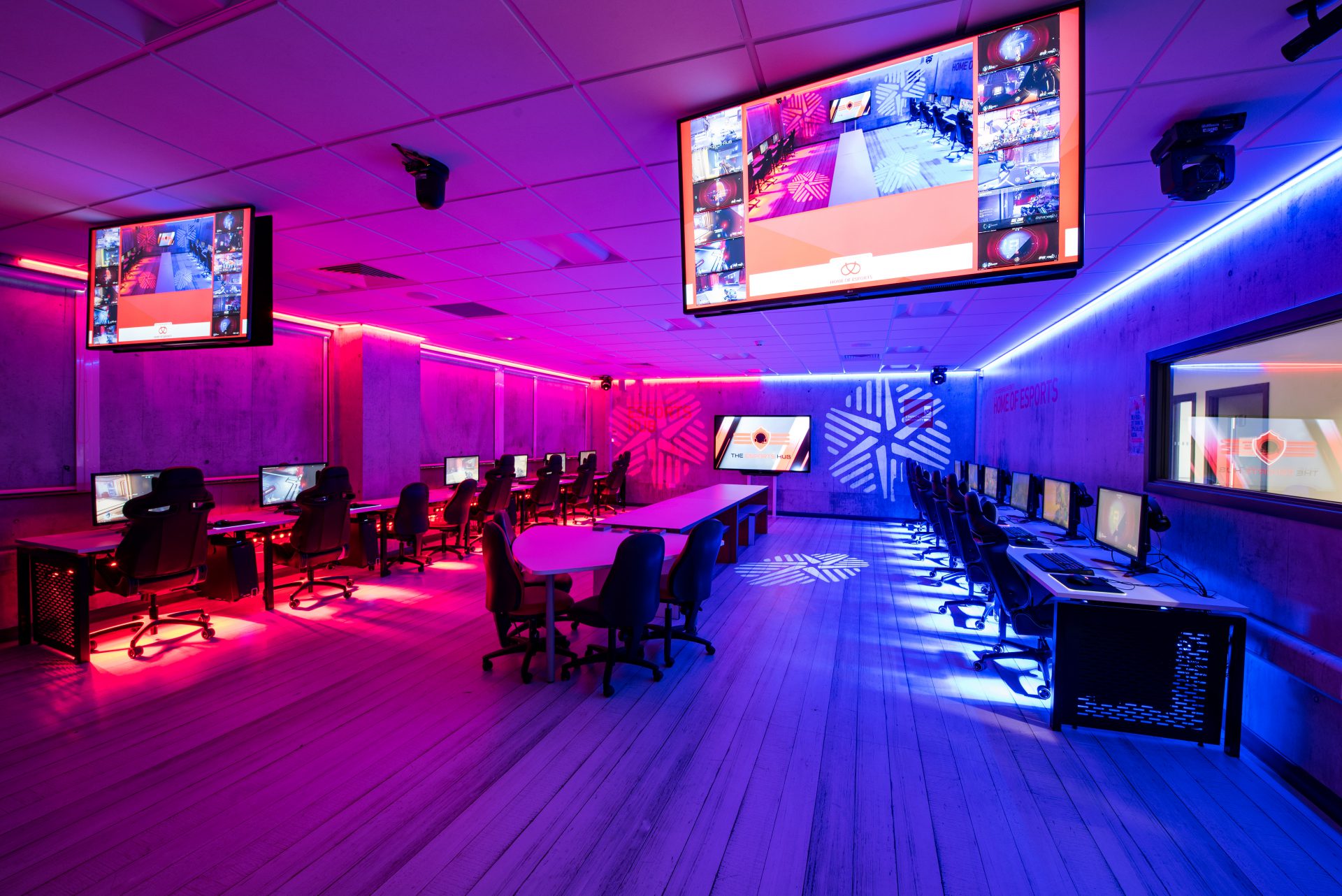 Close
Esports Studio
Our Esports Studio is a professional standard studio facility dedicated to the education and training of the next generation of esports managers, shoutcasters and broadcasting staff.
The studio facilities the live transmission of multi-input competitive gaming tournaments and is packed with the latest broadcasting tech from Yamaha, Newtek, Blackmagic and Panasonic, as well as bringing the esports world to live in dedicated presenter and commentator spaces with autocue equipment. The 6v6 gaming set ups are of competitive quality, bringing to life astounding 4k entertainment with the potential to broadcast on a global level.
Close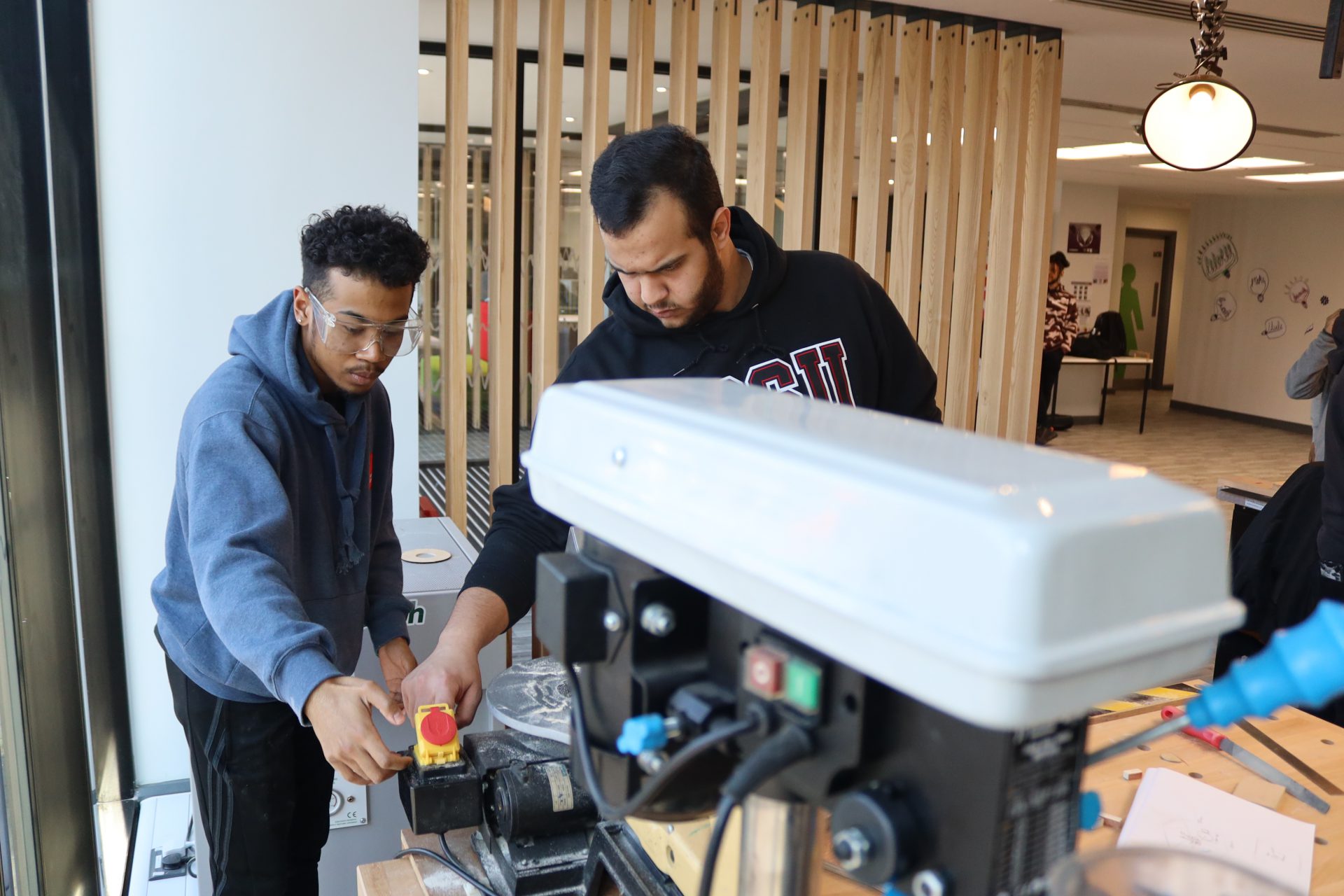 Close
Smart Zone
This fully-loaded area spans over two floors of the Mellor building.
On the ground floor you'll be greeted by the latest in fabrication and robotics facilities, including specialist Tortext Speedy 400 laser cutters, Rowland and Axminster milling equipment and a 3D printing Bureau that houses a collection of printers from the likes of Mojo, and Ultimaker.
There's also the chance to venture into digital worlds using state-of-the-art equipment computing, virtual reality and visual equipment on the first floor. Here you have access to the latest in virtual reality tech, green screen equipment, and even a indoor drone flying zone.